Vos: Sheldon's friendly dentist | Opinion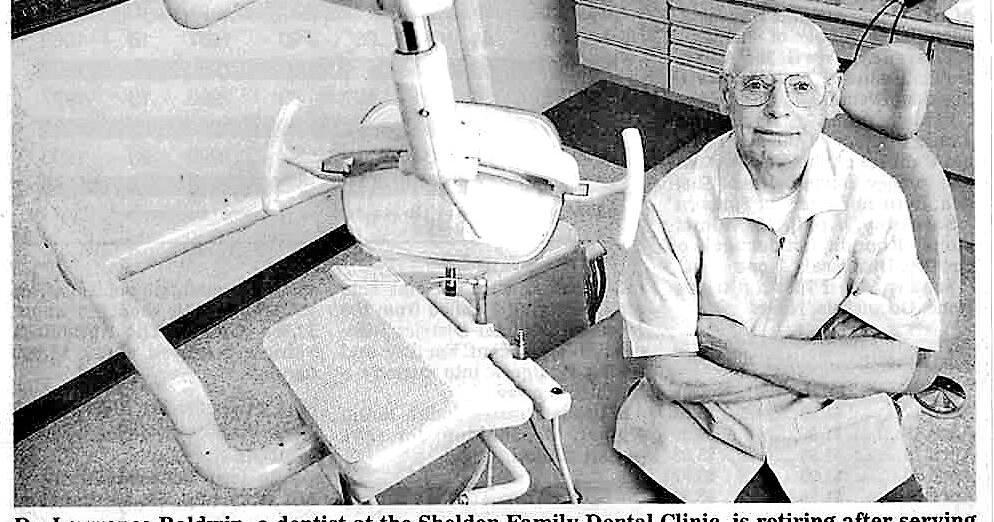 Lawrence "Larry" Baldwin began life in Farmington, in far southeast Iowa. His uncle was a dentist and Larry was intrigued by the dental program. He admired his uncle. Larry and his parents moved to Sanborn where he graduated from Sanborn High School in 1954. At that point he knew he definitely wanted to pursue a dental career. He attended the University of Iowa in Iowa City where he was enrolled in their dental program.
Larry married Coleen Ganzevoort, daughter of John and Freda Ganzevoort of Sheldon on August 24, 1957 in Sheldon. He graduated from the dental program in 1960 and returned to Sanborn where he started his dental practice, which was interrupted when he served in the US Army 1962-64.
Larry and Coleen were blessed with a son, Ryan, and two daughters, Lori and Rhonda. Rhonda preceded her parents in death.
Dr. Baldwin moved his dental practice, called Family Dental Clinic, to Sheldon in 1965. His first office was downtown, on the north side of Ninth Street, in a building that was vacated when Sheldon Vision Care moved in in the old Hy-Vee building. . Then he moved his office to the Business & Professional Center along Highway 18 until he returned downtown and set up his office in Arlington Plaza on Third Avenue.
"It's clean work, even if you're working in a mouth that isn't too clean," Dr. Baldwin said. "I like to do things with my hands. I liked the idea of ​​having my own business. You can organize holidays. You don't worry about other people telling you what to do.
He felt blessed with excellent dental assistants, hygienists and office staff during his four decades as a dentist. Many new technologies surfaced during this time, but he thought the biggest helper was the drill. He could do his job faster and his patients suffered less pain and discomfort. Another change concerned bonding materials for dental fillings.
Early in his practice, he found himself learning and gaining experience, but in his later years it required more physical dexterity and more effort to do a good job. He really enjoyed diagnosing and preventing gum, tooth and jaw disease and rebuilding teeth to their original shape, but he was not enthusiastic about pulling teeth.
After a while, he suffered from a carpal tunnel, which made his job more difficult.
It was around this time that Dr. James Hanno, another Sheldon dentist, decided it was time to retire and he was my dentist when I started teaching in northwest Iowa . So I had to find a new dentist. I made an appointment with Dr. Baldwin, and he became my dentist.
Then Dr. Baldwin started slowing down, taking all day Wednesday and Saturday mornings. Then he took off in March, and he and his wife went to Arizona.
Dr. Cory Borer joined him at the Sheldon Family Dental Clinic in 1999. It was during this time when Dr. Baldwin was in Arizona that I needed dental work. So I had to see Dr. Borer instead of Dr. Baldwin. .
Dr. Borer had worked with Dr. Baldwin for six years when Dr. Baldwin announced that he was retiring after 41 years as a dentist in Sheldon and approximately six years in Sanborn. Dr. Baldwin said he leaves his dental practice in good hands. Dr. Baldwin said he planned to take more trips; Spend more time with family; become more active in his church, St. Paul Lutheran; and be more involved in the Stephen Ministry program. Additionally, he planned to spend more time pursuing his artistic hobbies, such as stained glass, painting, and drawing. Larry said he expected to have some emotions on his last day.
"It could be difficult," he said. "We have some pretty nice people here that you hate to leave."
An open house for Larry's retirement was held at the Sheldon Community Service Center and brought together many friends and former patients.
No matter what event was happening in Sheldon, like the Labor Day celebration, Larry would walk around wearing a clown costume with a huge toothbrush and stop and talk to everyone. He also had a funny joke to tell, usually something about teeth.
Larry and Coleen were avid sports fans at Sheldon High School. They attended almost every sporting match the Orabs played in and out of town. To watch a game in Sheldon's gymnasium, Coleen would always sit in the front row of the bleachers and Larry would sit in the next row in front of her. They knew each player and their abilities on the playing field. Both received an award for being outstanding Orab fans. When the boys' basketball team went to the state basketball tournament in Des Moines, Larry and Coleen were interviewed on television about their interests in the Sheldon Orabs' sports games.
When they moved into the condo at the south end of Sheldon, they got a new addition to their family, a new pet, a puppy named Cola. There were several times when they had to chase the dog away when she escaped.
As a puppy, Cola had fun chewing on things. Cola's name was a combination of the first two letters of Coleen's name and the first two letters of Larry's name.
Coleen was known to be a good cook. She cooked many extra meals and delivered them to deserving people, like World War II veteran Vic Schulz. He was delighted when she brought him a home-cooked meal or cookies.
Larry, Coleen and their dog, Cola, moved into an apartment in Des Moines to be closer to their family, Lori and Ryan and her family. Lori became Cola's babysitter when Larry and Coleen couldn't take care of Cola. Coleen passed away on Friday, October 22, 2021. Larry has had medical issues since moving there, so he is lucky to live close to his family.
---
Millie Vos is Secretary/Treasurer of the Sheldon Historical Society, Director of the Museum and a member of the Board of Trustees of the Sheldon Prairie Museum. This is part of a series of historical articles on Sheldon. Members of the Sheldon Historical Society receive an annual newsletter containing articles like this. To join the company, call them at 712-324-3235.