MECC career event puts teeth into local dental school recruitment | News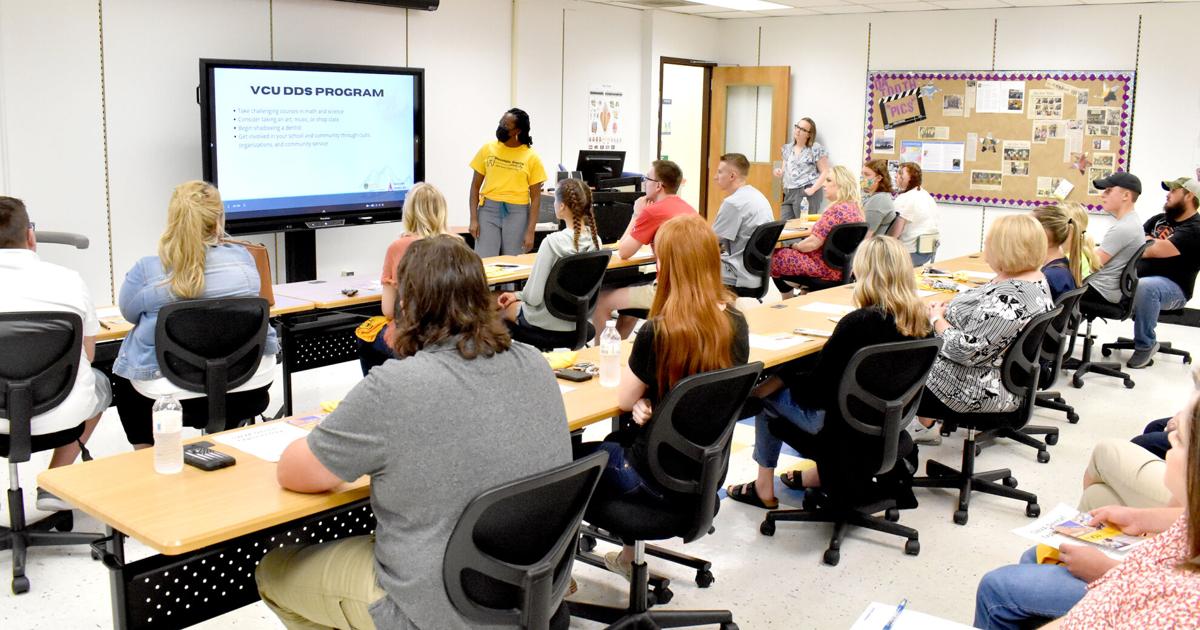 APPALACHIANS — Virginia has a dental school that accepts 60 students from the state each year, and Dr. Emily Bowen wants to see more Southwestern Virginia students among that group.
Bowen, dental assistant program manager at Mountain Empire Community College, hosted 15 students from Wise, Lee and Scott counties and the Norton area for Friday's Dental Explorer Day at the Center for Innovation in the college workforce in Appalachia.
The event allowed students to speak with VCU Dental School Recruitment Director Dr. Tiffany Williams and staff member Lindsay Smith about preparing for a dental career.
"It's a great career opportunity and that's why we wanted to highlight it for students," Bowen said. "It is also about improving access to dental care at all levels in our region.
There is enough demand for dental assistants and dental hygienists that national job growth could reach 20% over the next four years, Smith told the group, with an average annual salary in excess of $72,000. Several Virginia community colleges offer two-year programs, she added, and VCU and Old Dominion University offer four-year programs that can lead to training as certified dental assistants and dental hygienists.
Smith encouraged the group to work on their grade point averages since most admissions to the program are based on competitive GPA scores.
"In this area, there's not a lot of access to dentists," Williams told the group.
Dentists can earn an average of $190,000, Williams said, and interested students should prepare as early as high school. Science classes, community service, school activities and volunteering are good preparation to continue the same job in college, she said.
In the first year of college, Williams added, students should continue to take courses in chemistry, organic chemistry, biology, physics and biochemistry. In addition to maintaining a strong GPA, she said, prospective dental school applicants should choose their major and work toward building up around 100 to 150 hours of dentist shadowing.
Clubs and organizations are also important to a well-rounded dental student, Williams said, and students should get to know professors who can give them solid recommendations for their applications.
An applicant for VCU's dental school can expect to compete with 2,000 or more other applicants, Williams said. If accepted, a VCU dental student will pay approximately $30,000 per year in addition to housing, books, and other costs. She said enterprising students can find scholarships that will cover the cost of the four-year National Health Service Corps program or military scholarships that will require a service commitment after graduation.
Friday's group of students got practical experience of dental work in addition to the career information session. With the basic tools of the trade – carving knives, scribing picks, spirit lamps and blocks of dental wax – the students learned how to carve teeth for dentures. After that, the group learned how to mold dental impressions with molded rubber and how to make a teeth whitening tray to take home.
Bowen said programs like Friday's meeting with VCU dental school staff are important in addressing a regional shortage of access to dental care.
An optimal ratio of dentists in any area should be about 62 per 100,000 people, Bowen said, but the LENOWISCO area — Wise, Lee and Scott and Norton counties — has a population of about 80,000. people and less than 30 dentists in the region.
"That's less than half the number of dentists we should have," Bowen said, "and patients in the area have to wait weeks or months for appointments. Often they have to travel to the Tri-Cities or elsewhere, and transportation can be a problem for many people here.
Bowen said the recent opening of a free dental clinic at The Health Wagon in cooperation with Lincoln Memorial University is another step in making dental care affordable and accessible in the area.
"Often by the time someone is able to get an appointment for dental work, their dental issues have moved beyond restorative care and that means teeth need to be extracted," Bowen said.
"Today's event is a way to help recruit more dentists from this area," Bowen said. "If they come from here, maybe they will be more likely to come back here to train. This serves not only for them to find a profession, but also for the residents to have better dental care.