Louisville dentist helps patients without insurance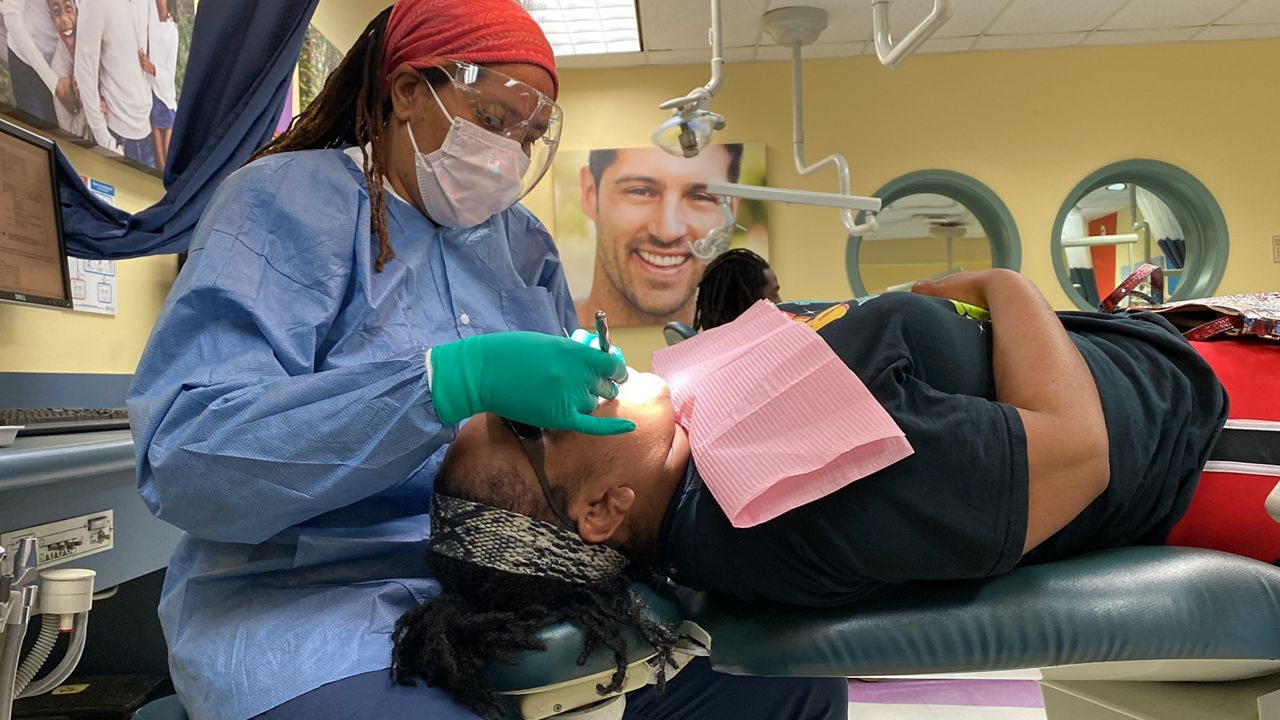 LOUISVILLE, Ky. — A Louisville dentist is making sure uninsured and underinsured families have access to dental care at an event called "Sharing Smiles Day."
---
What do you want to know
"Sharing Smiles Day" was founded in 2015
The event is organized with local dentists and the national partner dentist Benevis
Ruby Dentist & Braces in Louisville has been participating in the event since the first year
Nationally, "Sharing Smiles Day" helped 2,000 people with uninsured or underinsured day dental care
---
You wouldn't expect most dentist offices to be open on a Sunday, but this Sunday was no ordinary one. Ruby Denist & Braces in Louisville participated in "Share Smiles Day" for the seventh consecutive year to help community members who are uninsured or underinsured gain access to free dental care during the day.
Shannon Bright is a dental hygienist at Ruby Dental & Braces. She guides patients through the teeth cleaning and treatment process.
"It'll just go numb like the first two layers of your mouth, that's all. It shouldn't take long. She only has one to do here, so in those two areas," Bright told a patient.
The program is in its seventh year and this year includes 21 more dental practices across the country. This is made possible through a partnership with Benevis, a national dental services organization.
"In 2015, we launched a program called "Sharing Smiles Day". It's a program where we serve the underserved community, helping those who don't have insurance or are underinsured," Brown said.
Teri Brown, office manager for Ruby Dental & Braces, said the event has so far helped more than 2,000 uninsured patients in 16 states. It's something she's proud to share.
"A lot of people don't associate the mouth with the body, but it's very important to keep your mouth [health] great, so the rest of your body is healthy," Brown said.
Skipping regular dental visits could put you at risk for oral diseases like gingivitis or periodontal disease. According to the International Association for Dental Research in 2020, a study found that nearly half of respondents (46.7%) said they had delayed going to the dentist or receiving dental care due to the coronavirus pandemic. COVID-19.
Brown agrees that the pandemic has changed people's dental care priorities.
"People kind of forgot about their dental needs and it's very important to keep bringing our patients in to have their teeth cleaned and the sore areas taken care of," Brown said.
Brown wants more people in the community to know that there are dental care options that don't delay treatment.
Ruby Dental & Braces encourages families to stop by their Broadway Ave or Bardstown Rd. location anytime for dental care information and resources if they are uninsured or underinsured.