Longtime Myrtle Beach restaurant put up for sale; opening of a specialized dental office | Myrtle Beach News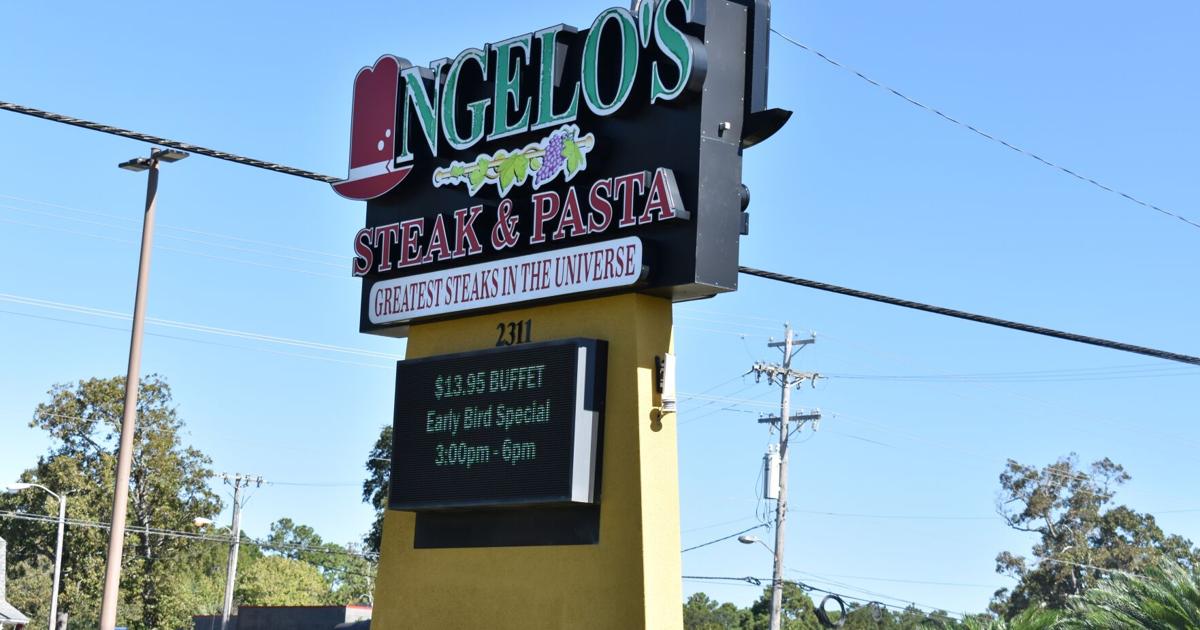 MYRTLE BEACH – Angelo's Steak and Pasta, one of Myrtle Beach's oldest restaurants, is still open after 42 years, but the business and its land on South Kings Highway are up for sale.
Billing itself as the home of the Grand Strand's "greatest steaks in the universe" and "best all-you-can-eat Italian buffet," the restaurant at 2311 S Kings Hwy can be had for $6.2 million.
Listed by King One Properties International, the 14,600 square foot property sits on nearly three acres at the southern end of the beach and a few miles from Myrtle Beach International Airport.
Owner Angelo Antonucci was named 2016 Restaurateur of the Year by the SC Restaurant and Lodging Association. Angelo's is widely known for its house magician Michael Bairefoot, who is a nationally acclaimed entertainer.
New specialized dental office
Coastal Periodontics, LLC, a periodontics and implant dentistry practice, recently opened an office in Myrtle Beach between the US 17 bypass and Robert Grissom Parkway and is taking on new patients.
Located at 4610 Oleander Drive, Suite 102, services include periodontal disease treatment, gum grafting procedures and dental implants. Periodontal disease is a chronic inflammatory disease that affects the gums and the bones that support the teeth, according to the firm's website.
Periodontist Dr. Lee Cochrane graduated from Clemson University in 2015 with a bachelor's degree in bioengineering. After earning his undergraduate degree, Cochrane completed his dental studies at the James B. Edwards College of Dental Medicine at the Medical University of South Carolina in 2019. He also completed a three-year periodontics residency at MUSC.
According to the National Institute of Dental and Craniofacial Research, 2 out of 5 adults are affected in some form by gum disease. The office said it offers the latest technology and techniques used in periodontics and implant dentistry to provide the most effective and safest patient care.
The office is open Monday through Thursday from 8 a.m. to 5 p.m. Visit www.Coastal-Periodontics.com or call (843) 839-4711 for more information.
cornhole anyone
The second annual Cornament presented by SkyWheel Myrtle Beach will take place next month at the Crooked Hammock Brewery located at Barefoot Landing in North Myrtle Beach.
Hosted by the Grand Strand Young Professionals organization, the cornhole tournament scheduled for Oct. 22 from 11 a.m. to 4 p.m. will support Substitutes for Santa, an annual charity that provides 150 area children with Christmas gifts and supplies.
"The Cornament will be an entertaining way for competitors and spectators to raise funds for Substitutes for Santa, which is a unique program that provides young people in Horry County with a holiday adventure of games, crafts and a shopping experience," said Caroline Yahnis, GSYP. Liaison Officer for the Myrtle Beach Area Chamber of Commerce.
Teams of two who wish to compete can register for $50 per team by October 14. Tournament officials said there will be both an amateur and professional league bracket.
Prizes will be awarded to the best teams in each division. Tournament spectators can purchase tickets for $15 each.
Visit MyrtleBeachAreaChamber.com for more information.
Do you have any Myrtle Beach/Georgetown business news to share? Contact Richard Caines at [email protected]