DOH-Marion recognizes National Dental Hygiene Month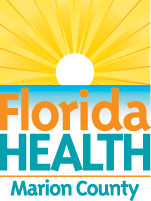 Ocala, Florida— Good oral health is an essential part of maintaining good physical health in general.
The mouth is full of bacteria. Most of the time, this bacteria is harmless. But since your mouth is the gateway to your digestive and respiratory systems, poor oral health can allow infectious bacteria to enter your system. This bacteria can cause problems in the mouth like tooth decay and gum disease, but also links to conditions elsewhere in the body, like pneumonia, cardiovascular disease and diabetes, according to the American Dental Association.
October is National Dental Hygiene Month, and the Florida Department of Health in Marion County (DOH-Marion) seeks to encourage our community to adopt good dental hygiene practices to improve and maintain good health in the mouth and throughout the body.
Tooth decay and other related common diseases are 100% preventable, and the Department offers the following tips to help you keep your teeth and gums healthy and strong.
Eliminate sugary drinks and snacks from your diet. Excessive consumption of foods such as carbonated drinks, sweetened tea, dairy creams or sweets can damage the hard layer of enamel that protects your teeth.
Brush twice a day for at least 2 minutes each time and combine this with daily flossing to ensure you clean the gums where brushing can't reach. Such practices can defend against the growth of the slimy layer of germs called plaque, which, combined with sugars, can over time create cavities.
Boost your diet with foods rich in minerals found in natural dairy products and vegetables.
Make regular visits to the dentist and dental hygienist to prevent the spread of bacteria and cavities throughout your life. Children should be seen by a dentist as soon as they have their first tooth, which should also be brushed daily.
Stop smoking. Smokers are up to seven times more likely to develop periodontitis, which is the inflammation of the bones and ligaments around our teeth that leads to tooth loss.
For children, when permanent teeth begin to appear, from the age of 5, look to apply sealants to the chewing surfaces of the teeth in the back of the mouth to prevent cavities in these new permanent teeth.
DOH-Marion can also help you with dental care.
Our dental team provides care to students in Marion County schools through our Sealant School Teledentistry Program. In addition, the Department operates its own dental clinic. It is located at the College of Central Florida's Hampton Center, 1501 W. Silver Springs Blvd., Ocala. Its hours of operation are 8 a.m. to 5 p.m., Monday through Friday.
The clinic offers a variety of diagnostic, restorative and preventive care for adults and children.
These services include exams, x-rays, cleanings, fillings and more. The clinic accepts Medicaid, Medicare, Children's Health Insurance Program (CHIP), and many dental insurance plans. If you do not have insurance, clinic services are available for a fee charged on a sliding scale based on income.
Remember: you only get one set of teeth – take care of them so they can last a lifetime.
Learn more
To learn more about DOH-Marion's dental services, call us at 352-622-2664 or visit marion.floridahealth.gov.
About the Florida Department of Health
The Department, nationally accredited by the Public Health Accreditation Council, strives to protect, promote and improve the health of all Florida residents through integrated state, county and community efforts. follow us on Facebook, instagram and Twitter at @HealthyFla. For more information about the Florida Department of Health, please visit www.FloridaHealth.gov.