Culpepper Garden thanks those who support its mission | news/arlington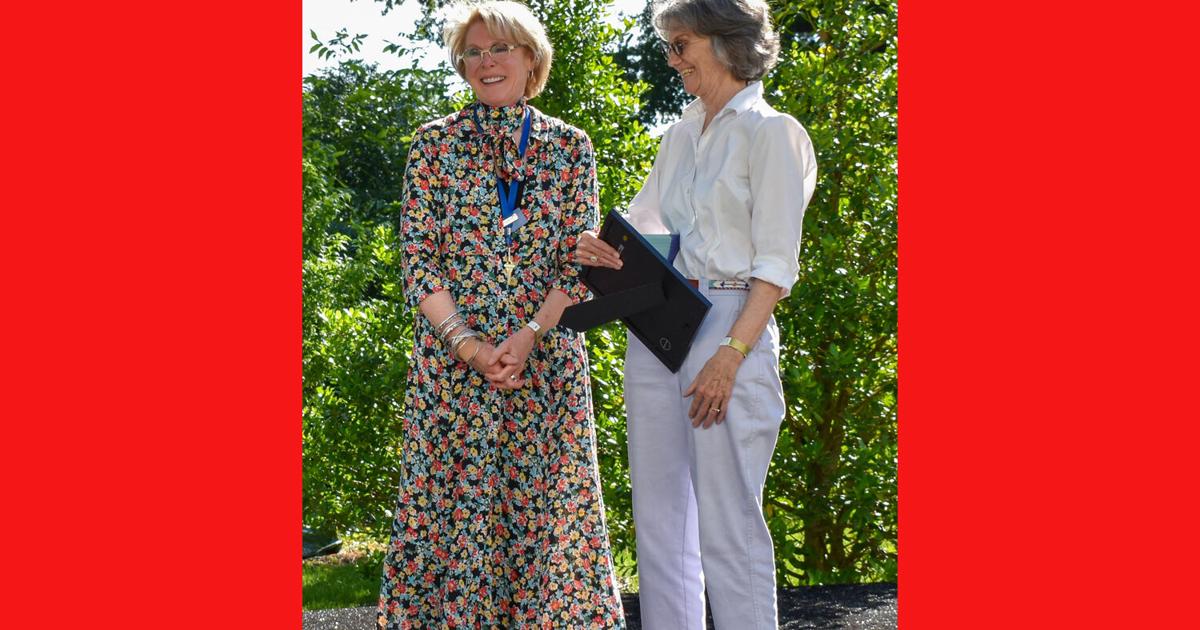 Culpepper Garden's inaugural "BBQ & Blooms" event honored the Fenwick Foundation and its longtime supporter Elizabeth Harter with the inaugural Legacy of Grace Award in recognition of their contributions to the housing provider's mission nonprofit serving low-income seniors in Arlington.
"We are extremely grateful to Tom Fonseca and Alex Gorny of the Fenwick Foundation and Elizabeth Harter for their continued support and generosity to our residents year after year, and for presenting them with the Legacy of Grace Award in recognition of their dedication," said Marta Hill Gray, executive director of Culpepper Garden, speaking at the June 4 event.
"We are encouraged by the turnout today and how the Arlington community has rallied behind our residents with their generous contributions. We are fortunate to be part of this community and look forward to hosting this event each year to thank our community for supporting our mission," said Gray.
Culpepper Garden established the Legacy of Grace Fund this year to address the demographic, economic and health care disparities faced by older people in Arlington and provide them with a stable future as they age. Facilitated by the Arlington Community Foundation, the fund aims to help seniors of all financial means live out their final years with dignity in a vibrant, caring, and compassionate community.
"What a great opportunity to recognize these three individuals and organization who have left such a tremendous mark on the Culpepper Garden community during the most difficult times of the pandemic," Del said. Patrick Hope before presenting the awards to this year's winners, "I am proud to help honor these dedicated Virginians who have demonstrated that above all else, we are a community that cares for one another.
Hope was joined by State Senator Barbara Favola, who served on the Culpepper Garden Board of Directors, at the ceremony.
Terri Lynch accepted the award on behalf of the Fenwick Foundation, a public charity focused on improving the quality of life and well-being of vulnerable, low-resource seniors in Arlington.
Tom Fonseca and Alex Gorny, through the foundation, provided free onsite dental care to residents of Culpepper Garden during the height of the COVID-19 pandemic. For the past two years, they have made mobile dentists and dental services available to self-employed and assisted residents, offering cleanings, x-rays and fillings. Their generosity has made dental care accessible to low-income seniors, for whom it would otherwise have been out of reach.
They are now also extending vision care services to Culpepper residents.
Elizabeth "Liz" Harter is one of Culpepper Garden's most generous volunteers, as well as a constant part of the Arlington Food Assistance Center's Friday distributions.
"Her positive attitude and gentle manner have been a constant inspiration to the people of Culpepper, especially during the toughest days of the pandemic," officials said at the award presentation. "His strength, kindness and grace during these difficult times served as a reminder of compassionate stewardship and determined giving."
The event took place in the grounds of the property, where guests enjoyed a barbecue lunch and a performance by local quartet Just Four Grins, and participated in a community auction featuring several pieces of pottery by the ceramic artist Local Fred Paul.
The event was jointly sponsored by Strategic Analysis, Amazon, and community members Jean Broyhill and Joe Ventrone.
Culpepper Garden is named after Dr. Charles Culpepper, a horticulturist and civil servant who owned the Ballston area property and meticulously tended his garden before selling the property in 1971. The garden is also home to a white oak tree which has recently been inducted as a "Notable Tree" by the Arlington government.
Culpepper Garden has evolved over time into an award-winning retirement community that offers 346 affordable homes. For more information, visit the website at www.culpeppergarden.org.
[https://sungazette.news provides content to, but otherwise is unaffiliated with, InsideNoVa or Rappahannock Media LLC.]