Cosby Village commercial section lines up its first tenants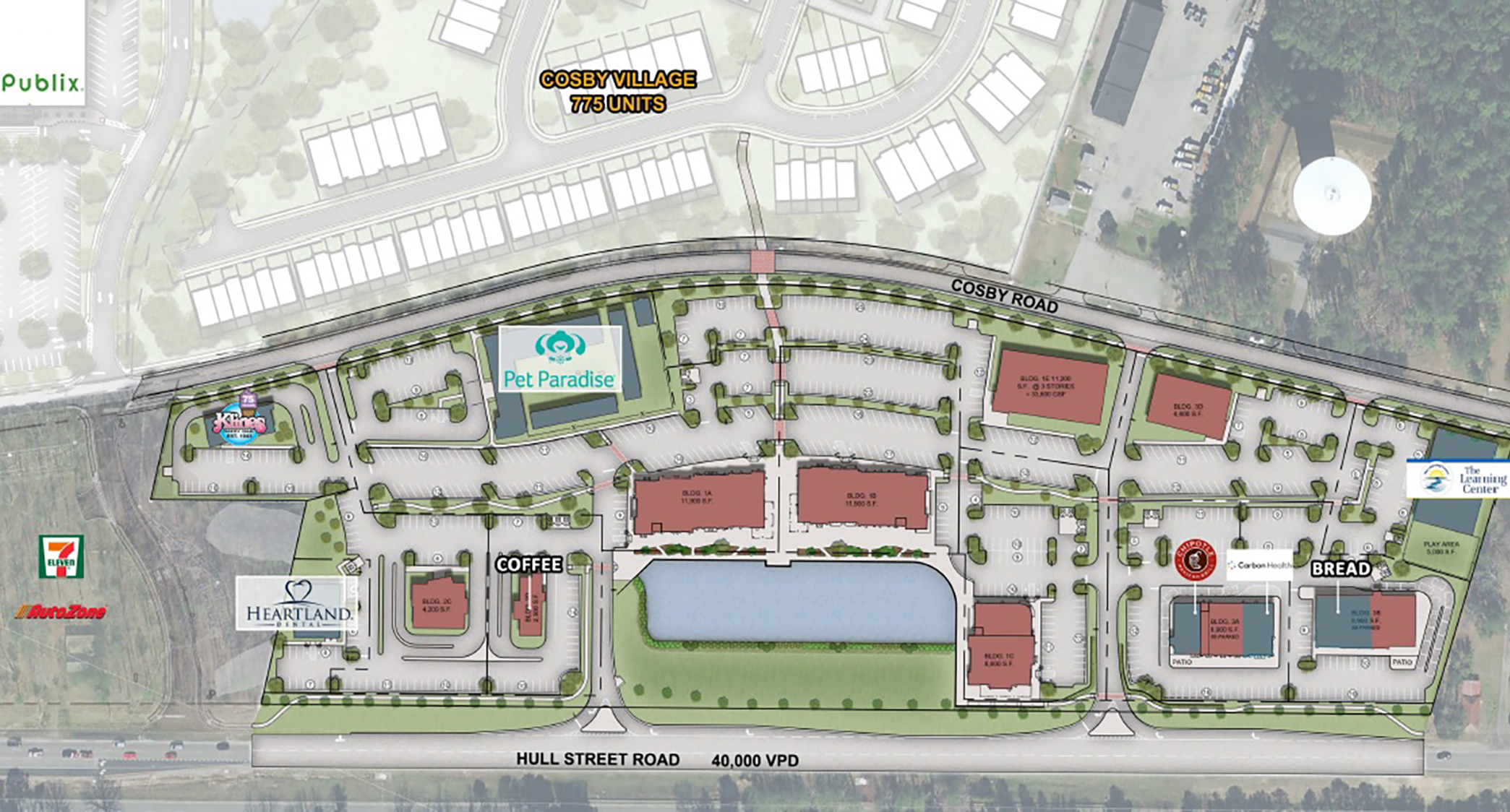 With a builder on board and several retail and office tenants lined up, a commercial section of the massive Cosby Village development on Hull Street and Otterdale roads is due to start in the coming weeks.
Main Street Homes, based in Midlothian, is preparing to start work on the site of Cosby Village Square, a 20-acre section along Hull Street Road which is expected to total 122,500 square feet of retail, restaurant and , offices and medical practices in 14 buildings.
Construction is scheduled to begin with three buildings that will house a Chipotle, a coffeeshop and another restaurant. A marketing flyer identifies Chipotle and labels the other two buildings as "coffee" and "bread."
Heartland Dental, Kline's Dairy Bar and Pet Paradise have also signed. Each is under contract to purchase self-contained buildings, said Kay Pangraze, land acquisition manager for MSH.
Pangraze said she could not name the coffeeshop and second restaurant because leases have not been finalized. Chipotle also rents out its space.
Pet Paradise will be the third Richmond-area location for the national dog and cat boarding chain, which opened its first local outpost this summer near Richmond International Airport. A second location is in the works at 1214 Koger Center Blvd. near Chesterfield Towne Center.
Heartland Dental and Kline's Dairy Bar are both new to the local market. The Cosby Village location is one of hundreds Heartland Dental plans to open nationwide over the next two years, according to its website. Kline's, based in Harrisonburg, has branches there as well as in Staunton and Waynesboro.
The Kline's and Pet Paradise locations are expected to face Cosby Road along the north side of the property, according to the flyer. Chipotle is part of an 8,900 square foot building on the east end of the section, where the other restaurant would occupy a similarly sized building.
The 2,500 square foot cafe will sit across an entrance at the western end of a planned water feature overlooking Hull. The Heartland Dental location would be two buildings away.
Cushman & Wakefield | Thalhimer markets Cosby Village Square, Connie Jordan Nielsen and Alicia Brown listing the retail spaces and Amy Broderick handling the offices.
The buildings include lease and purchase options, with prices increasing due to construction costs to $34-$36 per square foot. Pangraze said purchase options for one-acre pad sites along Hull and Cosby Road have also increased, ranging from $800,000 to $2.1 million depending on location and size. cut.
Pangraze said MSH aims to start work on Cosby Village Square in September. She said the project hinged on a letter they were expecting to receive from the US Army Corps of Engineers that would finalize site plan approval.
She said they have obtained construction approval from Chesterfield County for the Chipotle building and are awaiting final reviews and permits for the cafe and another restaurant.
Titan Construction Group was selected as the general contractor. Recent projects by the Chesterfield-based company include the nearby Hidden Wit Brewery and Starbucks at Gayton Crossing in Henrico.
Other companies involved in the project include New York-based Create Architecture Planning & Design and Richmond-based engineering firm Timmons Group.
Pangraze estimated the development cost for the first phase of the project, including the first three buildings totaling 19,700 square feet, at $15.1 million. She said the phase includes four lots that are under contract to be sold but not factored into the cost estimate. These four lots are expected to total over 31,000 square feet of building space.
Pangraze said agreements are being negotiated for the rest of the planned buildings, which will range in size from 2,500 square feet to a three-story structure totaling 33,600 square feet. Pangraze said all buildings should be completed by the end of 2023.
"We have a lot of other things going on," she said. "We have other buildings that we're starting on, and we have other tenants or plots that we're negotiating purchase and sale agreements on, and then we're going to fill those buildings."
The section will add to a mall anchored at Publix along Otterdale Road which includes The Sand Dollar Beach Kitchen, Mr. Submarine & Sal's Pizza, Davis & Nyczepir Orthodontics, Brush Up Dental, Otterdale Pet Wellness Center, Lavish Nails & Spa and Great Clips. An AutoZone and 7-Eleven are on the corner of Otterdale and Hull.
Cosby Village Square also adds to the overall Cosby Village development, which spans 68 acres and is zoned for up to 775 multi-family residential units. The 305-unit Livingston Apartments occupy nearly 5 acres, and two- and three-level townhouses fill areas closer to Cosby High School.
Pangraze said the townhouses were selling well and sales had begun on a second phase of the units, along with construction of a clubhouse and swimming pool.
Ninety-one of the townhouses have been built so far, with 34 under construction and 94 remaining. Pangraze said 32 of them are under contract.
Townhouse prices range from around $366,000 to $457,000, according to the MSH website.
Pangraze said Cosby Village Square will complement the overall Cosby Village development, which is designed with interconnections to create a village-style pedestrian community. Plans call for a footbridge over Cosby Road to connect the commercial section to the townhouses.
"It will be an excellent, multi-faceted, mixed-use development that will serve nearby communities that continue to grow," she said. "This is a great opportunity for the region.