Community Foundation Announces 2022 Grant Recipients | Every day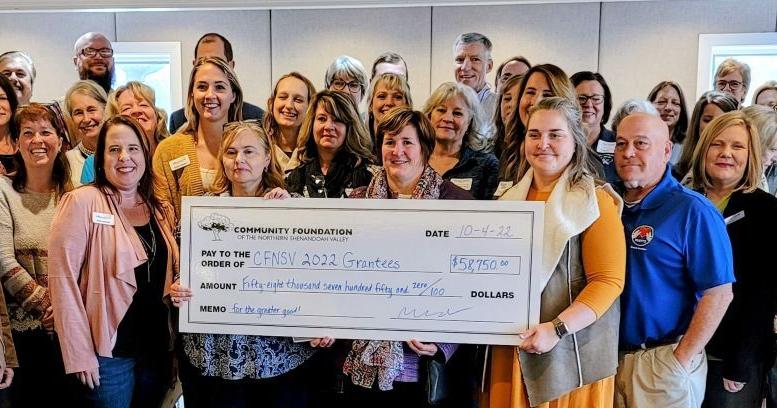 ROYAL FRONT — Several area organizations and businesses were recognized Tuesday for grants they have received through the North Shenandoah Valley Community Foundation.
The foundation's annual appreciation luncheon was held at the Shenandoah Valley Golf Club in Front Royal.
Most of the recipients had already received their funding, said Cathy Weiss, the foundation's administrative assistant. The only ones who didn't were grant recipients from the Chain of Checks campaign, as this effort will continue through the end of the year.
The Cochran Family Youth Fund recipients were:
* ABBACare for its childbirth and parenthood education program
* Front Royal-Warren County C-CAP for its Children's Learning Center Explorer's Corner
* Leary Educational Foundation Timber Ridge School for its Expanding Horizons program
* Literacy Volunteers Winchester Area for its campaign for grade level reading
* Samuels Public Library for its winter book club
* Shenandoah Valley Discovery Museum to delve deeper into its Hands-On Medicine exhibit
* The SPCA of Winchester, Frederick and Clarke hosts an Adopt-A-Pet Party that provides humane education for pet adoption
*Special Love – BRASS Camp Weekend for Siblings of Children with Cancer
* Youth Development Center for its YDC Is Gettin' Its Game On program
The CFNSV Community Future Fund has awarded grants to:
* Blue Ridge Area Food Bank to strengthen the charity food assistance safety net
* Blue Ridge Legal Services Inc. will continue to provide free legal assistance to low-income residents
* BRAWS will provide women's supplies and underwear to residents of Winchester and Frederick County
*ChildSafe Center-CAC for its caregiver closet
* Foundation for Rehabilitation Equipment & Endowment to continue its efforts
* Just Neighbors Ministry Inc. for its Partners for Citizenship program
* Phoenix Project for Food and Clothing Safety
* Wheels for Wellness to continue their efforts
* Winchester Area Temporary Thermal Shelter (WATTS) for their Warming Center Program 2022-23
The recipients of the Boxley-Fox Endowment Fund were:
* French & Indian War Foundation for their investigation of the Fort Loudoun site
*Mountain View Music Association for their 2022-23 scholarship fund
* Shenandoah University for their program The Spirit of Freedom: Preserving the Civil War's Emancipationist Legacy in the Shenandoah Valley
* Winchester Musica Viva Inc. for their 2022-23 concert season after their previous season was cut short
Chain of Checks awarded money to:
* Blue Ridge Habitat for Humanity for their Housing Plus program: Critical Home Repair and Aging in Place
* Sinclair Health Clinic for their program A Place for Moms: A Pregnancy Centering Care Space
* St. Luke Community Clinic for their dental program
* Winchester Rescue Mission to create welcome and comfort spaces
Dental Clinic of Northern Shenandoah Valley Inc. and The Laurel Center Intervention for Domestic and Sexual Violence both received grants from the Paul and Martha Rees Fund. The dental clinic will use the funds to pay for its emergency medical equipment project and the Laurel Center will use its funds for its community outreach program.
The Chain of Checks campaign aims to have enough to donate $5,000 to Blue Ridge Habitat for Humanity and Winchester Rescue Mission and $3,000 to St. Luke's Community Clinic Dental Program and Sinclair Health Clinic, Barry Lee said. , who founded the campaign in 1986 while working. for WINC FM in Winchester.
He said they recoup a good chunk of their donations over the holiday season by encouraging radio station listeners and others to send in checks for whatever amount they can donate.
Depending on the amount of money raised by the end of the campaign, Lee said after lunch that they might add more recipients.
"If more money comes in, because it happened last year, we'll move on to the next one," he said.
Other grant recipients, chosen by the Community Foundation Grants Committee, received amounts based on their needs. The money came from the $58,750 the foundation had in its fund last year, Weiss said.
"It varies from year to year," she said.
The foundation has awarded $3.65 million from donor-advised funds since September 2001, Board Vice Chair Kathy Kanter said at the luncheon.
Kanter invited other individuals, families, businesses or organizations who regularly give back to the community to consider partnering with the foundation or others to make their giving more meaningful and impactful.
Grateful to receive $2,000 to continue the efforts of Blue Ridge Legal Services, Jennifer Locke, chief counsel for the Winchester office, said this was the first time she had received a grant through the foundation.
"It will allow us to save more people," she said, "especially in areas where we have seen an increase in demand."
Thomas Gromling, volunteer dental director of the North Shenandoah Valley Dental Clinic on the Our Health campus in Winchester, said the $1,000 the clinic receives will help them be better prepared, in part, by having an emergency oxygen kit on site so they don't. have to borrow it from the nearby Sinclair Clinic in case of an emergency. They are also using the funds for a medical emergency health and first aid kit and a bag mask resuscitator with additional disposable bags.
With its $2,000 grant, Samuels Public Library will fund its winter book club for nine weeks next season, said library director Michelle Ross.
Samuels is an individual nonprofit library, she said. "It is vital for us to receive grants like this."
The winter reading club helps with literacy for children who might otherwise lose their skills during the winter holidays and in bad weather, said Michal Ashby, supervisor of youth services.
Last year, more than 500 children signed up to read 7,000 books, she said. This year's theme will be Winter Reading Wonderland and they hope the grant will help them further improve their services with incentives such as giveaways and positive reinforcement to inspire children to read.
"We want to make it exciting to read," she said. "We want it to be a place of destination."