A dentist shares what to do if a tooth is broken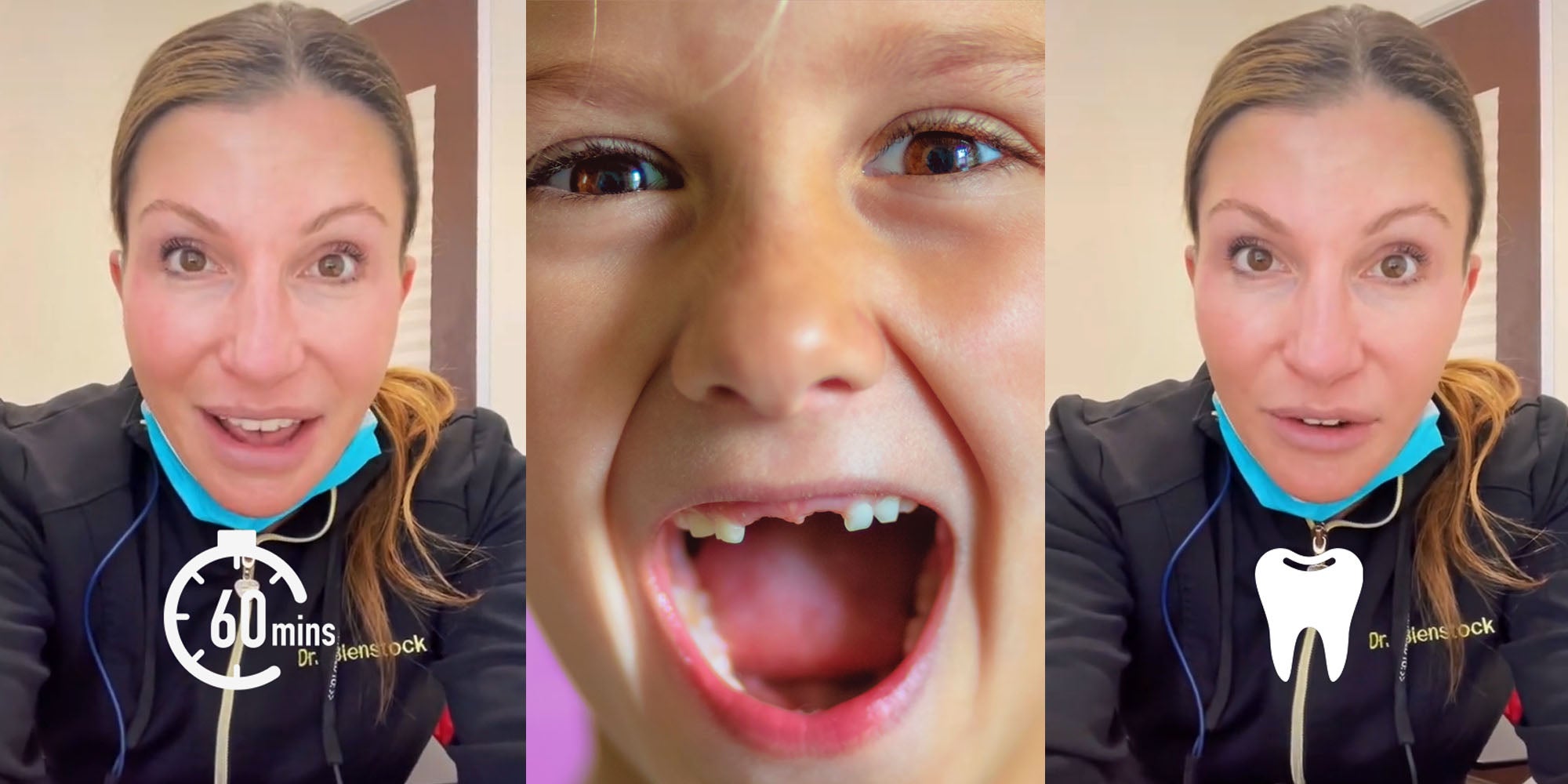 A popular children's dentist on TikTok has gone viral after sharing a largely unknown tip: If one of your teeth is broken, the best thing you can do is put it back in place.
Lisa Bienstock (@doctorb.thatsme), reportedly a dentist in Arizona, explains this by telling the story of one of her patients. The video has over 7 million views.
In the video, she explains that she received a call from a parent of an injured child at a birthday party. She says someone lost control of a bat while swinging a piñata, and the loose bat knocked out six of the child's front teeth, four of which were adult teeth.
She says when the parents called an emergency medical technician, they did not inform him that the teeth needed to be put back in the mouth within 60 minutes. Otherwise, there is very little chance that the teeth can be saved and the child will have to have implants later in life.
"If your children's front teeth are broken and they are permanent teeth, they are adult teeth, please put them back in the socket," Bienstock shares. "Even if it's the wrong way, just get them back and then call your pediatric dentist.
In another video, Bienstock explains why this is the best thing to do.
"So the tooth is alive and there is a blood supply where nerves and blood vessels flow. It's called the 'pulp', and it's also in the root of the tooth," she begins. "When a tooth is out of the mouth, and if it's out of the mouth for longer than 60 minutes, that blood supply will die and the tooth will no longer be vital."
"If you put the tooth back in the mouth, the nerves and blood supply can remain vital and reintegrate and flow, and the tooth eventually is fine," Bienstock concludes.
In a third video, she details the correct process for re-implanting a tooth.
Briefly, she says to rinse the root with sterile saline or, if there is none, clean water (don't scrub it). Then, holding the crown, place it back into the socket. One, she says, can use a biting paper towel to hold it in place.
If that's not possible, storing the tooth in the mouth or in milk are viable options as long as professional care is sought quickly, she adds.
Re-implanting an adult tooth after it has been ejected could prevent it from being removed permanently. However, if the tooth is a baby tooth, it is better to just drop it.
As the Cleveland Clinic details on its website, "If the tooth is returned to the socket within five minutes of being knocked out, it is likely that the tooth may survive. Between five and 60 minutes there continues to be a good survival rate as long as the tooth has been stored properly. If the tooth is out of the mouth for more than 60 minutes, the chances of survival decrease significantly.
In comments, the TikTokers were shocked by this revelation.
"I definitely never would have thought of doing this," wrote one user. "Thank you for sharing!"
"You just solved one of my recurring nightmares," added another.
Many feared it would be painful.
"My whole mouth is ready to come out of my face and I'm ready to let it go," one TikToker said. "Thinking about all this hurts my pulp."
However, some commenters shared that it might not be as painful as it looks.
"I put my son's front tooth back in immediately after it was pulled out," one commenter recalled. "It was not painful for him at the time."
Some TikTokers said dentists should let patients know about this in case of future incidents.
"Dentists should mention to parents when they bring their children in for cleanings so it's more widely known…and how to keep and fix teeth," wrote one commenter.
In the comments, Bienstock agreed.
" Knowledge is power ! If you didn't have this information and didn't know what to do IF it happened, it would be scary. But you can feel comfortable knowing you know what to do in the script," she says. "We hope you never have to use it!"
---
today's best stories
*First published: April 16, 2022, 8:51 a.m. CDT
Braden Bjella

Braden Bjella is a cultural writer. His work can be found in Mixmag, Electronic Beats, Schön! magazines, and more.