75th Horn | Birthday celebrations | lancasteronline.com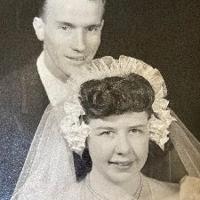 Richard "Dick" and Rita (Keys) Horn of Columbia, PA will celebrate their 75th wedding anniversary on Tuesday, May 10. They were married on May 10, 1947 by Msgr. Robert J. Maher at St. Peter's Catholic Church, Columbia. They are members of Holy Trinity Catholic Church, Columbia.
Dick graduated from Columbia High School and served in the United States Navy. On the GI Bill, he went to watchmaker school and worked at Hamilton Watch. He then made the transition to the hardware industry. He spent much of his career with Herr & Company, Lancaster, where he held sales and management positions and eventually as chairman of the company. He retired from RKB Enterprises where he was Regional Sales Manager. Rita is a graduate of the former St. Joseph's Academy, Columbia, and worked for the Columbia Newspaper. She took time home to be with their children and was active in the Holy Trinity Mother's Club and the Holy Trinity Altar Rosary Society. She retired from a local dental practice where she worked in office administration.
They are the parents of four children: Christine, wife of Don Sylvester, Reston, VA; Joanne, wife of Bot Roda, Lancaster; David, husband of Cherie (Hart), Lancaster, and Barbara, wife of Kyle DiBrito, Palmyra. They also have several grandchildren: Kate Roda, Lancaster; Zack Roda and Veronica Jancuk, Pittsburgh; Sandy (DiBrito) and Bryan Delahunty, Wynnewood, PA and Marcus DiBrito and Michelle Huth, Hoboken, NJ. They also have a great-grandchild, Luka.
The photographs are from their wedding as well as an article entitled "Lasting Love" which was published in Susquehanna Style Magazine and in which Dick and Rita were honored to feature. The Horns are enjoying their retirement years as residents of St. Anne's Retirement Community, Columbia.